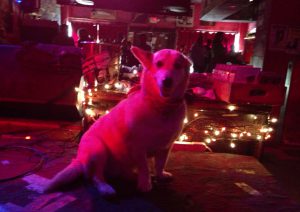 On January 16 we lost our most beautiful, inspirational, tour manager, mascot, guardian angel and head of security, chief of late-night hotel check in, on-tour adventuring, and after-show kisses, Eva.
January 23, 2018
To our Dearest Hot Club Friends,
We wanted to write to let you know that today marks one week since our most dear and devoted Eva passed on from this world. As so many of you know, she has been with us for fourteen magical years as our tour manager, head of stage security, Elana's guardian angel, chief music lover, stage sleeper, musical hostess, and loving greeter to all of you, our Hot Club of Cowtown extended family throughout the world.
Eva's loving spirit connected with an untold ocean of us–people and animals, friends, fans, strangers–over the years. Her welcoming smile, the joy she brought to us–no less to the occasionally scuzzy backstage corridors with us on tour than to her adventures in the wild back country of Montana, her gentle calm, her sweet and loving guardianship–she will be dearly, dearly missed. But I know her spirit continues to dwell in our hearts, on stage, and wherever the road yet leads us–she wouldn't have it any other way. We wanted you to know how much she LOVED the touring life, she loved our band, coming out for the encore, taking a bow, sleeping ostentatiously on stage through our sets–especially the fast songs, getting up after 45 minutes to let us know it was time for intermission, kissing people after the show, posing for photographs, signing CDs, supervising sound check, weighing in at recording sessions, doing photo shoots, running down hotel corridors at 2 AM, overseeing van loading, and all around loving the musical life.
She was with us to the very last and passed peacefully at home, naturally, last week with me at her side, the most wonderful parting gift she could have given. We are celebrating her life for our happy hour at the Continental Club tomorrow, Wednesday, January 24 from 6:30 – 9 PM for a free show. Please join us in spirit if you aren't able to make it in person.
Thank you for sharing her journey through this life.
"Do I love you, oh my, do I, honey, deed I do.
Do I need you, oh my, do I, honey, deed I do.
I'm glad that I'm the one who found you.
That's why I'm always hangin' 'round you.
Do I love you, oh my, do I, honey, deed I do."
With love,
Elana
Hot Club of Cowtown
PO Box 66203
Austin, TX 78766