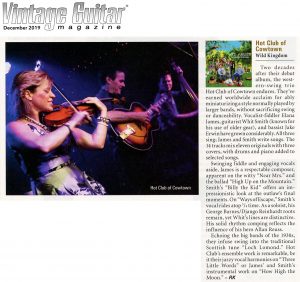 Hot Club of Cowtown — Wild Kingdom
Two decades after their debut album, the western-swing trio Hot Club of Cowtown endures. They've earned worldwide acclaim for ably miniaturizing a style normally played by larger bands, without sacrificing swing or danceability. Vocalist-fiddler Elana James, guitarist Whit Smith (known for his use of older gear), and bassist Jake Erwin have grown considerably. All three sing; James and Smith write songs. The 14 tracks mix eleven originals with three covers, with drums and piano added to selected songs.
Swinging fiddle and engaging vocals aside, James is a respectable composer, apparent on the witty "Near Mrs." and the ballad "High Upon the Mountain." Smith's "Billly the Kid" offers and impressionistic look at the outlaw's final moments. On "Ways of Escape," Smith's vocal rides atop 5/4 time. As a soloist, his George Barnes/Django Reinhardt roots remain, yet Whit's lines are distinctive. His solid rhythm comping reflects the influence of his hero Allan Reuss.
Echoing the big bands of the 1930s, they infuse swing into the traditional Scottish tune "Loch Lomond." Hot Club's ensemble work is remarkable, be it their jazzy vocal harmonies on "Three Little Words" or James' and Smith's instrumental work on "How High the Moon." – RK